Sally Creek Golf Club
Officially OPENS The 2022 Season
Saturday April 16th
Welcome to 2022 Golf Season & we look forward to welcoming you back to Sally Creek Golf Club. Don't forget to add the hashtag #ChallengeTheCreek to any of your photos and postings made to Social Media. We will have Monthly Prizes for some of our favorite photos, videos and memes throughout the season!

It has been a long winter and a slow start to the Spring of 2022 but we are happy to announce that the golf course did officially open Saturday April 16th, 2022. The course is still quite wet in many areas and those taking power carts are reminded that we are Cart Path Only until further notice.

We are experiencing a higher than normal call volume regarding leagues, memberships and general inquires about the course. If you are just wanting to book your tee time please go to www.sallycreekgolf.com and book your tee times through the Tee-On Portal.
The 2022 Season will see the return of rakes in the bunkers, ball washers on course and the ability for golfers to remove pins from the cups while putting. There are a Limited Number of Memberships still available for the 2022 Season. We also have available spaces to join our Triple Bogey Thursday Men's League or the New Tuesday's Ladies League! Please click on the links above for information.

Please familiarize yourself with our Dress Code. Beginning on May 1st, those who do not have appropriate attire will not be permitted access to the course for play.

If you have any other golf course related questions, please email Sally Creek Golf Club General Manager Gavin Mifflin (gavin@sallycreekgolf.com)
As always we ask that you please remember that the grounds of the golf course are Private Property and are not to be used for fishing/golf ball hunting/dog walking/biking/hiking at ANY time during the year. We respectfully ask that ALL GOLFERS check in at the proshop before each round. It is imperative that we have accurate records of how many people are on the grounds at all times. Signs will be posted and anyone who is on the grounds without permission may be subject to law enforcement and charges under the Private Property Act.
We are excited to bring back The Fix My Divot Campaign in 2022! Special thanks to Baden Coffee Company for their generous support and donations of coffee as prizes!
Help us keep our fairways and greens looking the best and have a chance to be sipping the best coffee every morning!
GET STARTED NOW
SALLY CREEK GOLF CLUB
Ontario's Premier 9 Hole Golf Course
Crafted with the assistance of Mother Nature, Sally Creek Golf Club, will challenge even the best golfers and with 4 sets of tees on each hole it allows everyone an enjoyable golfing experience.
Designed by renowned architect John F. Robinson, the course is situated on an outstanding golf property carved through centuries by the meandering Sally Creek and complimented with strategically placed ponds, manicured bunkers, bentgrass greens and 4 tee decks, Sally Creek, and it's stunning backdrops, provide a golf experience leaving you wanting more.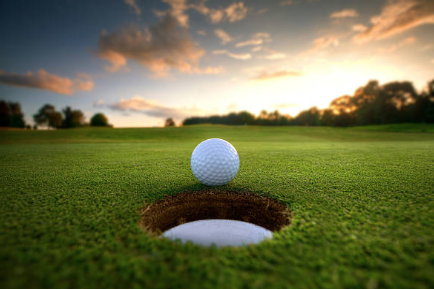 Our Course Overview
Welcoming public golf course with private atmosphere. Course yardage ranges from 2,127 – 3,027 with water (Sally Creek and ponds) on all 9 holes. Check out our course from a birds eye view.
Sally Creek Golf Club's Tee Decks and Yardage
We offer four different Tee Deck options so that the course can be challenging an exciting for players of any level.
Weekly Leagues and Specials
Sally Creek offers a variety of leagues and specials to suit every golfer. Our leagues and specials run each week on Tuesdays, Wednesdays, and Thursdays. For more information about our leagues and specials see below or select one of the tabs in the main menu.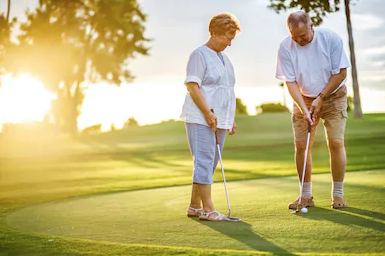 Monday and Wednesday Seniors Specials (55+)
Every Monday and Wednesday Seniors can enjoy:
• Discounted Green Fee Rates • Discounted Power Cart Fees Come out and have a nice relaxing round of golf.
Tuesday Ladies Golf Specials
Every Tuesday Ladies can enjoy:
• Discounted Green Fee Rates • Discounted Power Cart Fees Come out and have a nice relaxing round of golf with your famiy or friends, Sally Creek Golf Club would be happy to have you.
Wednesday Men's League
Formerly the Cedar Creek League
Contact: Don Cooper (league convenor) for information. phone: 519-539-2791 email: betdon@rogers.com ​ This league is NOT run by Sally Creek Golf Club.
Thursday Men's League
Features:
• Play anytime Thursdays • 9 hole weekly league, open to the public and members • Special league green fee rates • Season standings based on weekly scores • Weekly prizes and skins game •Golf score Handicapping included • Season end BBQ and Prize Table
What Our Visitors Say About Us
Don't take our word for it – here's what our visitors say:
Very well maintained golf course, tough greens. Enjoy playing there.
Robert Shellington
Best conditions in the area! Beautiful course.
Chuck Surette
Great 9-hole course – challenging and forgiving at the same time. Fairways and greens are very well kept. A pleasure to play…
Trude Hansen
Sally creek golf course is the best course I have played.i am a scratch golfer and drive from kitchener to play.
Brian Langley
Green Fees
Check out our Green Fees Page for all information regarding to pricing!
Member Pricing for 2021
Check out our latest prices for 2021 Membership!
Contact Us
We love feedback and are eager to assist you with any golf questions or course related information!
Specials and Discounts
*NEW*
Check out the deals on 2021 Memberships